Quick, reliable delivery nationwide
We are well positioned to react quickly to our customer's needs, whether that be shipping containers delivered locally or remotely, or collection of a container. As an established supplier of shipping containers in the UK we provide a reliable and affordable delivery and collection service for customers who purchase, rent, or sell units.
Get a quote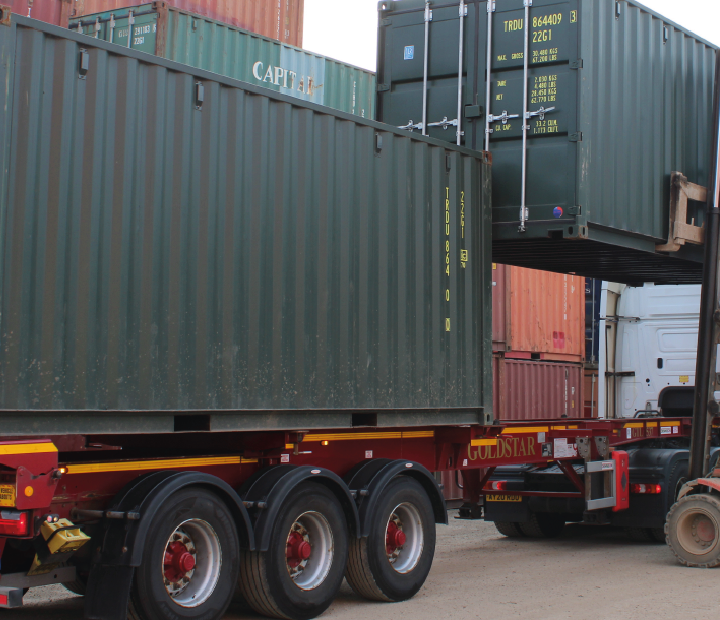 Leading Expertise
We apply the highest standards of professionalism to all aspects of our pickup and delivery service, from helping you choose the most appropriate container for a particular shipment, to keeping tight schedules when it comes to delivery. Our employees are well versed in the technical 'dos and don'ts of the container industry and can readily provide sound advice to ensure that everything runs according to plan.
What to know about our delivery and collection services
There are a few guidelines we have in place to ensure a smooth collection and delivery service. Please take a look at the information below or get in touch with a member of our team to discuss your exact requirements.
Get in touch
It's important to notify us about any barriers restricting access to the delivery or collection location. While we are usually able to navigate difficult environments, it helps to know in advance about any walls, buildings or overhanging cables that might be blocking or restricting access.
We need to be informed if the delivery or collection location has an uneven surface. It's necessary to bring specialised tools for deliveries of this kind and so our teams will need to be informed in advance to ensure a quick and easy service.
For deliveries, please speak with our team about exactly where you'd like the shipping container to be positioned. This will allow us to bring support legs and additional tools if necessary on the day.
Access space needs to be provided slightly above the size of the selected container, as doors need additional space to open and close. Approximately 10ft should be left for this purpose – access space for a 20ft container should be around 30ft, while 50ft would be necessary to comfortably fit a 40ft container.
An additional 10ft of space is needed for refrigerated containers, as it's important to allow for uninterrupted air flow for the machinery that controls the internal temperature.
We recommend all customers check everything is delivered to specification while our technicians are still onsite. That way, we can immediately fix any problems and address any issues.
Please keep in mind that our delivery vehicles are quite large and require sufficient space to operate. A typical 20ft container is hauled by a lorry that's 34ft long and more than 9ft wide so ample room is required to facilitate an easy drop off.
If you're worried about a lack of space please get in touch with our team who can advise you based on your requirements.
Subscribe to our mailing list
For the latest news and updates.